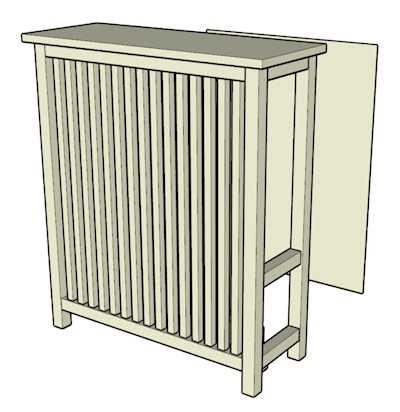 Which of these two tools will work best to add woodcraft related design sketches for to my WordPress site.  Over time I will search for other tools, but these are the ones I am most familiar.  I will be using Visio 2016 Pro and Sketchup Make (2017).
Considerations
Cost:   I have a an inexpensive copy of Visio Pro 2016 from my work HUP program.  It is expensive, but having a copy predisposes me to try to use it.    I do not have a Sketchup Pro copy, but have put together some detailed dimensional drawings of a radiator cover and used an extension to create a cut-list.
 WordPress:   I will use my WordPress site my-woodcraft.com site to display this work.   This means in part that I want the content to be ON my site, not linked to another site for performance reasons as well as independence.
Goals:    A good preview  of the finished product.  It would be nice to use images of actual materials so that I can get a good preview of the final result.    A cut-list should be available to detail set of dimensions for use in construction.
Usability:  I expect a pretty steep learning curve, but in the end I want this to be quick and easy.   I will be dependent upon what I can learn on the Internet about using these two tools.    The effort required to get up to speed on these tools on the specifics of my goals is a major concern.
Other tools:  What other tools?
First Some Homework
I do not wish to start off from scratch with these tools for my simple designs and I'm not that familiar with either tool.   Visio is certainly a good tool for architecture, network, flowchart and org charts.   I was not able to find any templates for woodcraft projects.   
Visio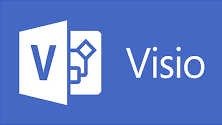 With Visio I created a floor diagram for my study which I them want to put into a format I can use in WordPress.  Exporting to a pdf or xls file are the  options.  So I went looking for Viso Addin options.   This HTML Export tool creates a static HTML file it does not seem very hand for WordPress.  So the best option is to publish as a pdf and a pdf viewer plugin.
Next I a searched for Woodcraft related templates so I would not need to start from scratch.  Perhaps I will try again, but I could not find anything.
Sketchup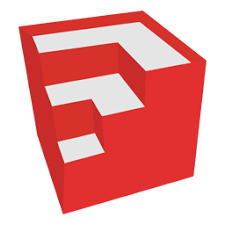 First my Sketchup 8 was old.  I installed Sketchup Make 2017 even though the current tool is Sketchup Free, a web based product.   I did not want to need to be online to use the tool, but the cost Sketchup Pro for a hobby is prohibitive.  SO Sketchup Make is the choice.
There are two good Shop Class DVDs on Sketchup for Woodworkers by Robert Lang  readwatchdo.com.  Long ago I used these to put together some radiator drawings with Sketchup 8.  But now he has some pdf courses specific to woodworking.  I should look into the new tutorial PDF.  This makes Sketchup a good choice, if only I can get good images for my website?  From what I have seen Sketchup animations are large files and not very suitable for hosting.  I suppose I can always take screen shots.  He even has instruction on how to import images to get started with and ways to add woodgrain.  How can you beat that?